As of now you can book your timeslot via Toplogger Each timeslot lasts 2h, you can book one timeslot a day and there's always one day inbetween 2 timeslots. Drinking a refreshing beer afterwards is also included in this 2h slot. To ensure a smooth check-in we ask you to arrive 5 min before your booking and to check-out on the time due.
We start with a maximum of 60p in the gym in the same time. We do have more capacity but we'd like to try out how comfortable everyone is. Dropping by for a boulder session spontaneously isn't an option for now, you really need to book a timeslot on beforehand.
All information about the temporary COVID-19 measurements are mentioned on our Toplogger page. We sure hope we're back to normal asap but who can tell? Until then you'll need to bring your own water bottle, chalkbag and brush. Changingrooms are closed, so come to the gym in your boulder clothes and just change your shoes. Shouldn't this be an option because of wearing a suit obligations at work f.i., please contact us by Phone to discuss the options. We'll open the changingroom for you.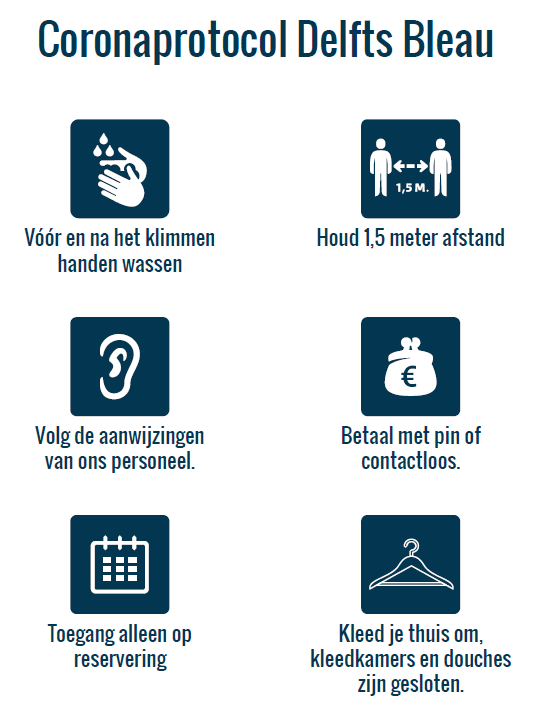 The use of chalk is mandatory. Shouldn't you happen to have your own chalkbag: we do have 5 rental bags and each one is rented out once a day. Buying your own chalkbag and chalk in our shop is also an option, same applies for a brush. Water bottles, chalkbags and brushed cannot be shared during COVID-19. You can still rent shoes, which will be desinfected after use.
The monkeybar and yogamats are unavailable. You could bring your own yogamat in order to do a proper stretch and/or cooling down.
All beverages are available, but not all food. Tosti's, pizza's and cake are not available for now.
We look forward seeiing you soon, despite the COVID-measurements. And it goes without saying you'll cancel your booking if you have a cold, sneeze, cough etc. and/or if someone in your Household has these symptoms. We'd love to see you again safe and sound!