We're there! The Dino is closed up and the last part of the wall next to the entrance is also finished. This finishes the outside of the wall! And it looks awsome!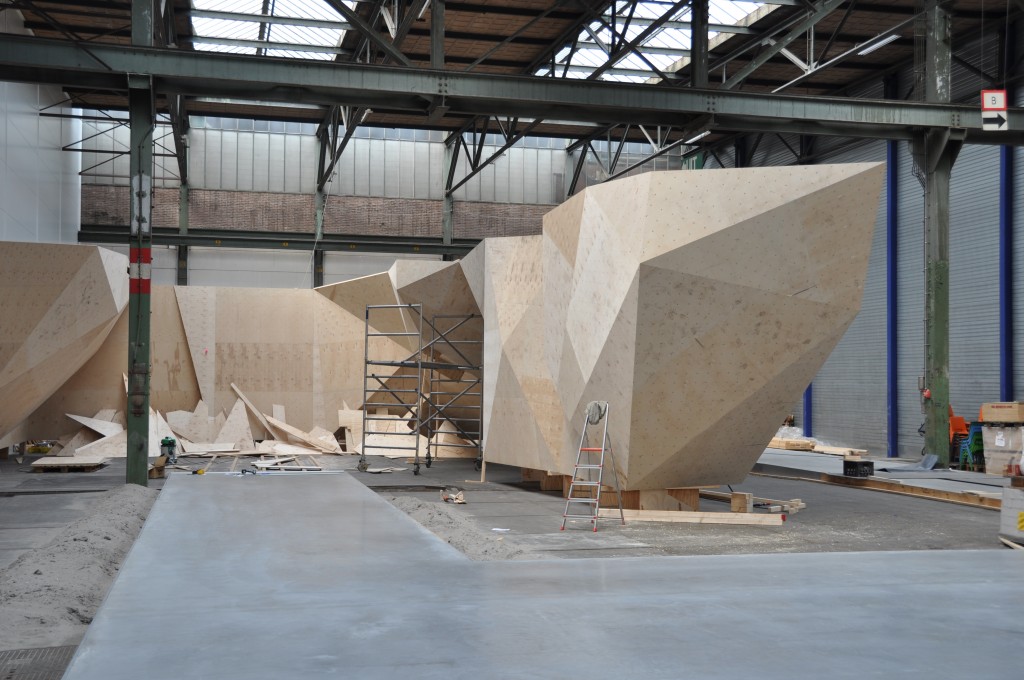 There has been a lot of progression the last few weeks; not only did we finish the outside of the wall, but we also reinforced a large part of the dino with a skeleton of wood. Besides a lot of progression is made in building the carcass of the dressing rooms, so we started adding the beams for the roof this week.
The main wall and the large wall to the left are already sanded, so as soon as the top is placed, they can be coated for the first time.
Heuvelman Hout is closed for holiday, but luckily Pontmeyer had the right size of wood in stock! Furthermore the materials for the completion of the dressing rooms were delivered by Bouwmaat, they even cut the plasterboard to the right dimensions for free! We are busy discussing holds with several suppliers and made a test mat to test the foam.
Meanwhile the banner with our logo, designed by Bart van Raaij, shines on the outside wall. The banner is made by Fastgood Reclame.
Dick, Ronald, Nick, Rens, Rolf, Ties, Jamie, Hans, Yvette, Michiel, Sytse, Sjoerd, Remmelt, Jan, Kristap en Rolf: Thanks a million for all your help!
Roger, Thomas, Lucas, Peter, Jan, Sjoerd, Wietse, Anouk, Herman, Bart, Rob, Esme, Kim, Gabrielle, Rutger, Patrick, Joris, Henri, Matthijs, Theo, Rianne, Hans, Yvette, Hans, Marina, Margreet, Rodger, Maria, Roderick, Tessa, Dre, Johan, Rudi, Manou, Marianne, Reginald, Joost, Mara, Dirk, Hanneke, Nynke, Nicky, Steffi, Lia, Mario, Conny, Guido, Jip, Tom, Thomas, Tineke, Karlijn, Gerco, Jelle, Robin, Marion, Martin, Geeske, Jos, Pieter….: it was nice you dropped by and thanks for showing interest and support!